EASYGrip pads for crutches & Rehab
Grip pads for REHAbilitation
Yes, there are grip pads for forearm crutches. But is it also easy to remove and take the current solutions with you? And continue to use it in rehab - for the parallel bars, for example? Or even afterwards with sports or hobbies? This unique versatility is only available with the new EASYGRIP pads. They are the result of decades of development and, thanks to their patented design, combine several tangible advantages!
Advantages of the EASYGRIP pads in the REHA
EASYGRIP provide effective palm protection through extremely stable and cushioning neoprene layer: no calluses, no pressure points or irritation of the trigger points
The wrists, elbow joints and especially the shoulder joints are extremely spared by wearing the EASYGRIP pads on forearm crutches
People who suffer from osteoarthritis, in particular of the arm and shoulder joints, experience extreme relief in everyday life when using their walking aids thanks to the EASYGRIP Grip Pads
Natural grip thanks to a thickness of only 2.4 mm, therefore optimal hold
Super easy to use, as it can be used on both sides on the left and right ventilated palms, therefore no sweating on the palms
EASYGRIP can easily be carried permanently thanks to their high flexibility and low weight, especially when patients have to support themselves on changing aids (railings, edges, backrests, wheelchair wheels).
EASYGRIP are easy to care for and remain hygienic, as washable up to 60 °
We offer up to 7 years warranty because they are extremely durable and long-lasting
Attractive design from a young, sporty target group.
EASYGRIP pads bring more individuality to rehab with their 6 fresh colors (red, orange, yellow, pink, blue and green). The functional and at the same time puristic "Ghost" design with the two-finger comfort perforation appeals to customers who not only value comfort, but also sustainability. Because the EASYGRIP pads are ideal for further use in sports after recovery, especially for strength training - this is what they were originally developed for.
Designed in germany, Unique in Europe Patented worldwide - for your protection.
EASYGRIP pads are only available from EASYGRIP SPORT.
We have been the sole global supplier since the product was launched in March 2020.
Our products are patented worldwide and are constantly being further developed by us.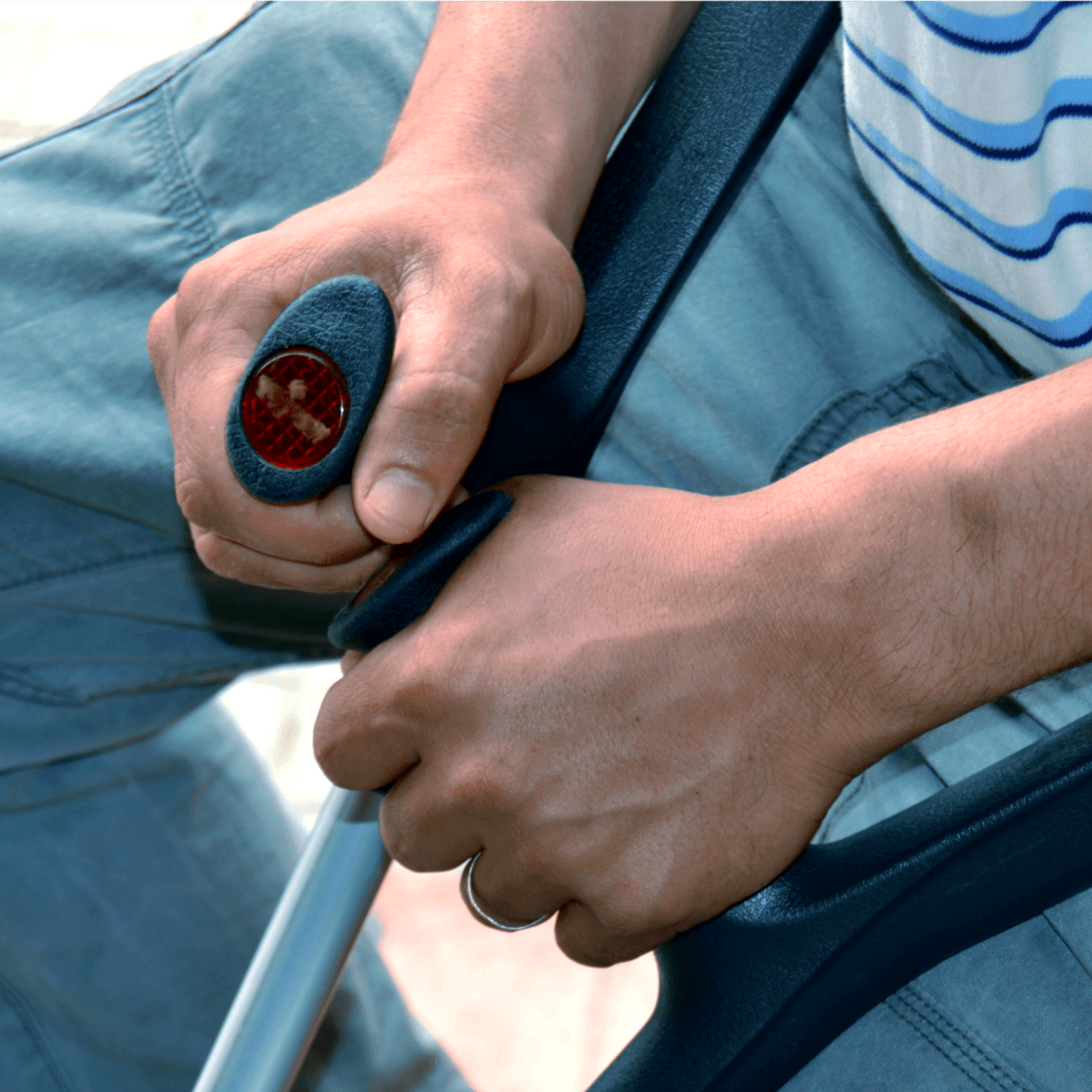 Especially in rehabilitation, mobilization and development!
The controlled execution of your exercises is particularly important in rehabilitation. The EASYGRIP neoprene grip pads enable you to grip correctly and have full concentration on the muscle groups that are to be trained. You can use your strength in a more targeted manner and do not need to worry about the hygiene of the equipment used. Get your EASYGRIP grip protection for crutches so that you get well again quickly in rehab.
For all holding exercises and especially with crutches.
Depositphotos #6518400, #326311124, #326311148, #48766039, #55416557